Team McNair added to their Grand River Raceway resume on Monday afternoon (Aug. 1) when their Bettors Delight gelding Sounds Good responded to all pressure to score a 1:55.1 victory in the $204,000 Battle of Waterloo Final presented by Winbak Farm.
Off the 8-5 favourite, Sounds Good grabbed the lead while Santana Hanover parked to his outside passing a :27.2 first quarter. Santana Hanover stayed at the throat of the pacesetter while the tempo slowed by a :57.2 half and accelerated in tandem in the drive up the backside to three-quarters in 1:27.2. Sounds Good's stablemate The Moment Arose tipped three wide coming to the final turn, but heading for home the field separated into two.
Santana Hanover, a 49-1 shot, kept digging into Sounds Good straightening for home as the pair scooted clear of the competition. Yet once driver Doug McNair pulled the plugs on Sounds Good, the Gregg McNair trainee responded and edged away from Santana Hanover to hit the finish a length better. Bettor Bea Terror finished third and Moment Is Here checked in fourth.
"There was a bit of a panic mode around the first turn," driver Doug McNair said after the race. "I just didn't know where everybody was going to be situated. I wanted to do the give and go with Austin [Sorrie], but I noticed there was a horse on his back. Kudos to him for costriding and finishing second. In a race like that, its tough to sit along out there nice and patiently.
"It's good to team up with Doug," trainer and father Gregg McNair said after the race. "It's a great race to win; it's a hard race to win. That colt all winter, he didn't really like to cut the miles. So I was a little concerned over that, but he was like that last week and raced good."
For Doug and Gregg, this is their fifth victory in the Battle of Waterloo, which makes Doug the winningest driver in the race and brings Gregg one win closer to Carl Jamieson's record six victories in the "Battle".
Sounds Good earned his second victory from four outings and added to his account now worth $121,656. Michael and Sam Sergi own the gelding who paid $5.20 to win.
Glenboro got a jump on the competition as Big Big Plans raced mired in traffic. But once daylight opened, Big Big Plans accelerated and spun for home to collar the 25-1 shot in the final strides of the $155,000 Battle of the Belles.
Driver Trevor Henry barreled Big Big Plans from post 5 to the pylons entering the first turn with Brynley Seelster securing the pocket. Shake It Twice, outsprinted from the pylon post to the first turn, landed third but quickly popped off the pegs and to the lead by a :27.2 first quarter.
Once on the lead, Shake It Twice slowed the tempo, which bunched the field passing a :56.3 half and prompted Blue Glamber to commit to a first-over push. Her stablemate Glenboro tracked that move but flipped three wide under a fierce drive to overpower Shake It Twice through three-quarters in 1:27.1. The pacesetter folded from the pressure off the final turn and Glenboro turned for home on the engine, though Big Big Plans came revving to her outside within a matter of strides and put away Glenboro coming to the finish of a 1:56.4 mile to win by a half length. Brynley Seelster finished third and Shake It Twice held fourth.
"They kind of had me pinned down in there," Henry said after the race, "and I had to wait until I had a little room. Once I got room, I was just hoping I had enough time to make it up. But she raced awesome. The only thing that saved me [was] I didn't use mine hard; I had to use her just a bit to leave. She is better off a helmet, but you just never know what's going to happen [on a half-mile track]. It all just worked out in the end."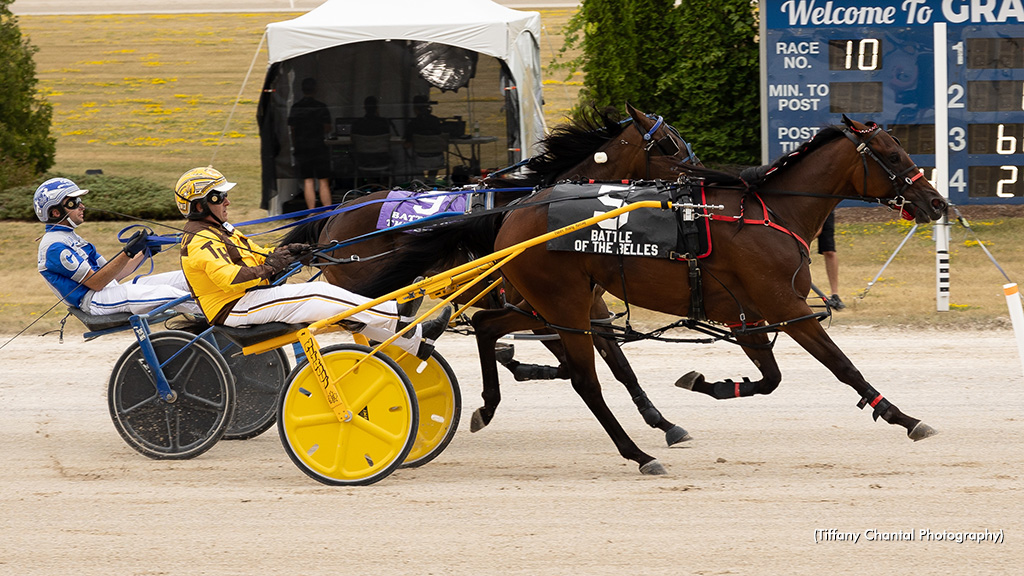 ​
Big Big Plans now has four wins in a row from five outings and has now accrued $186,620 for owners Robert McIntosh Stables Inc., Mardon Stables and Dave Boyle. Bob McIntosh trains the daughter of All Bets Off who returned $4.30 to win.
A pair of Ontario Sires Stakes (OSS) Gold events for three-year-old pacing fillies were contested on the Battle undercard. I Love Ongait led every step to win the first $100,400 OSS Gold division.
Driver Louis-Philippe Roy rolled the Sunshine Beach filly from post 4 to the point heading to a :26.4 first quarter and coasted. Swinging by a :55.2 half, she steadied her speed slightly up the backside as odds-on favourite Goudawon loomed first over to apply minor pressure by three-quarters in 1:24.1 before I Love Ongait repelled her challenge around the final turn. Delight Bayama, racing second over, kicked wide for the drive and marched towards I Love Ongait in the late stages, but the pacesetter had enough in reserve to hold a three-quarter length margin at the beam in a 1:53.2 mile. Goudawon settled for third and Velvet Stinger took fourth.
"She's a different type of filly," Roy said after the race. "Like even at Mohawk, she doesn't like to sprint at the end. She more likes the 'Catch me if you can.' That's kind of why I thought she'd suit the half mile – everybody has to go around you to pick you up and it's a short stretch, so it worked out good."
Dr. Ian Moore trains I Love Ongait for owners Let It Ride Stables Inc., Bottom Line Racing LLC and Mac Nichol. She has now banked $230,700 in her career after collecting her third win from 21 starts and paid $9.10 to win.
Odds-on favourite Silver Label applied similar front-stepping tactics to deliver in the other Gold division with a 1:53.4 mile.
With Doug McNair substituting in the bike, the Nick Gallucci-trained Bettors Delight filly cleared to the top approaching a :28.1 first quarter and strolled to a :57.3 half under minimal threat. Speaker Nancy edged first over to challenge the leader to three-quarters in 1:26.1, though – with the soft tempo – Silver Label spun for home with a :27.3 final quarter to open a 2-1/4-length lead to the finish over Speaker Nancy. Pocket-sitter Got The Gold finished third and Love That Smile took fourth.
"I think she's a top filly in this division," McNair said after the race. "She was just nonchalant on the front. She had her ears up on the whole way kind of looking around, not really paying a whole lot of attention. She put a couple little steps in the last turn I think just cause she was just getting rolling. She's kind of a big filly and I maybe should have had her rolling a bit more before we hit that turn. But she just kind of did that like breaking sticks; just a real nice filly."
Silver Label, a homebred for Millar Farms, notched her ninth win from 15 starts and padded her account to $553,741. She paid $2.50 to win.
Armor Seelster swept to the lead in the final half and strode to a 1:52.1 win in the $12,500 Preferred Handicap Pace. The four-year-old Bettors Delight gelding sat third while Casimir Richie P sped to a :26.2 first quarter and through a :54.3 half. To the half, driver Jody Jamieson moved Armor Seelster into an attack and overtook Casimir Richie P to three-quarters in 1:23.1. He hit the stretch well in hand to pass the line 2-1/2 lengths in front of Ideal Perception with Pocket-sitter Braeview Bondi A giving chase from third. Gabby Sasso conditions the $4.40 winner for owners Jeff Courchesne and Martwest Racing Stable.
The eight-year-old Daylon Magician gelding Scene A Magician made a similar first-over challenge for the lead but had more of a fight to land the finishing blow in the $12,500 Preferred Handicap Trot. Driver Trevor Henry sat fourth with Scene A Magician as Willyorwonthe led through a clip of :27.1 and :56.1. Henry then moved Scene A Magician first over into the backside and slid to a narrow lead by three-quarters in 1:25.3 as Willyorwonthe started a retreat to the inside. The Jennifer Pinkerton-owned and -trained trotter then turned for home and held off a charge by second-over Cool Muscle to win by a head in 1:55.3. Scene A Magician paid $6.80 in victory.
Despite the outermost post, Sporty Tori soared the lead and posted a front-stepping 1:54.4 victory in the $11,000 Fillies & Mares Preferred Pace. The six-year-old Sportswriter mare cleared control in rein to Bob McClure after a :26.2 first quarter and only had to contend with a minor first-over challenge from Darkrshadeofpale N through a :56 half and to three-quarters in 1:25.3. Sporty Tori slipped away from the competition coming for home and widened her lead on pocket-sitter Catch An Ace through the stretch to register a five-length victory by the beam. Gord McKnight trains the $6.30 winner for owner M&s Racing Stable Inc.
The Industry Day card, which featured 11 races, drew $440,785 in wagering handle, up from 2021's figure of $371,125.
A replay of the Industry Day card is available below:
To view Monday's harness racing results, click the following link: Monday Results – Grand River Raceway.
(With files from Grand River Raceway)